ANALYSER & CONVERTER
Serial interface analyser and universal serial interface converter.
Overview
THE VINCI EXPERT Industrial design inspired by Leonardo da Vinci's illustration "Vitruvian Man", which represents the golden ratio of the human body. The elements are positioned so that they would prolong the lines of the drawn figure and create a perfectly ergonomic shape of the device, convenient to handle every day. The positioning of each component, button and LED is calculated according to the golden section ratio and Fibonacci sequence to make not only the appearing of the tool visually aesthetic, but also to create the whole product extremely comfortable to use. For sure you will love it.
THE VINCI EXPERT helps you to MONITOR what is being transmitted over RS232, RS485, RS422 and even over fiber optical cable in order to make communication between devices. THE VINCI EXPERT is especially helpful in product development, testing and commissioning stages. It supports Modbus, DNP, IEC 60870-5-xxx and other serial protocols.
THE VINCI EXPERT helps you to CONVERT serial interfaces. It is a powerful tool, which allows you to change serial interface from RS232 to RS485/RS422 or to the Fiber optic. Any other combinations are supported as well. Whether you are developing a new solution or considering obtaining a converter, THE VINCI EXPERT is a wise choice.
The package includes The Vinci Expert hardware + The Vinci Software (with Premium licence) + all necessary gender adapters, fiber optic and UTP cables + traveling case.
Features
Unique design of hardware with precise agility in details deliberated design and features makes The Vinci Expert perfectly fit for commissioning engineers to be used at work with serial communication lines.
Device is designed by having in mind ENGINEER as most important person and all details was polished to fit into they needs.
RS232 interface designed to setup any pinout in software and save that configuration for future needs. It allow fast and unlimited cabling capabilities for RTU's, PLC's, Modems, IED's and any other equipment.
RS422/RS485 interface designed to easy switch from 422 to 485, add terminating resistors and even switch pin parity in software.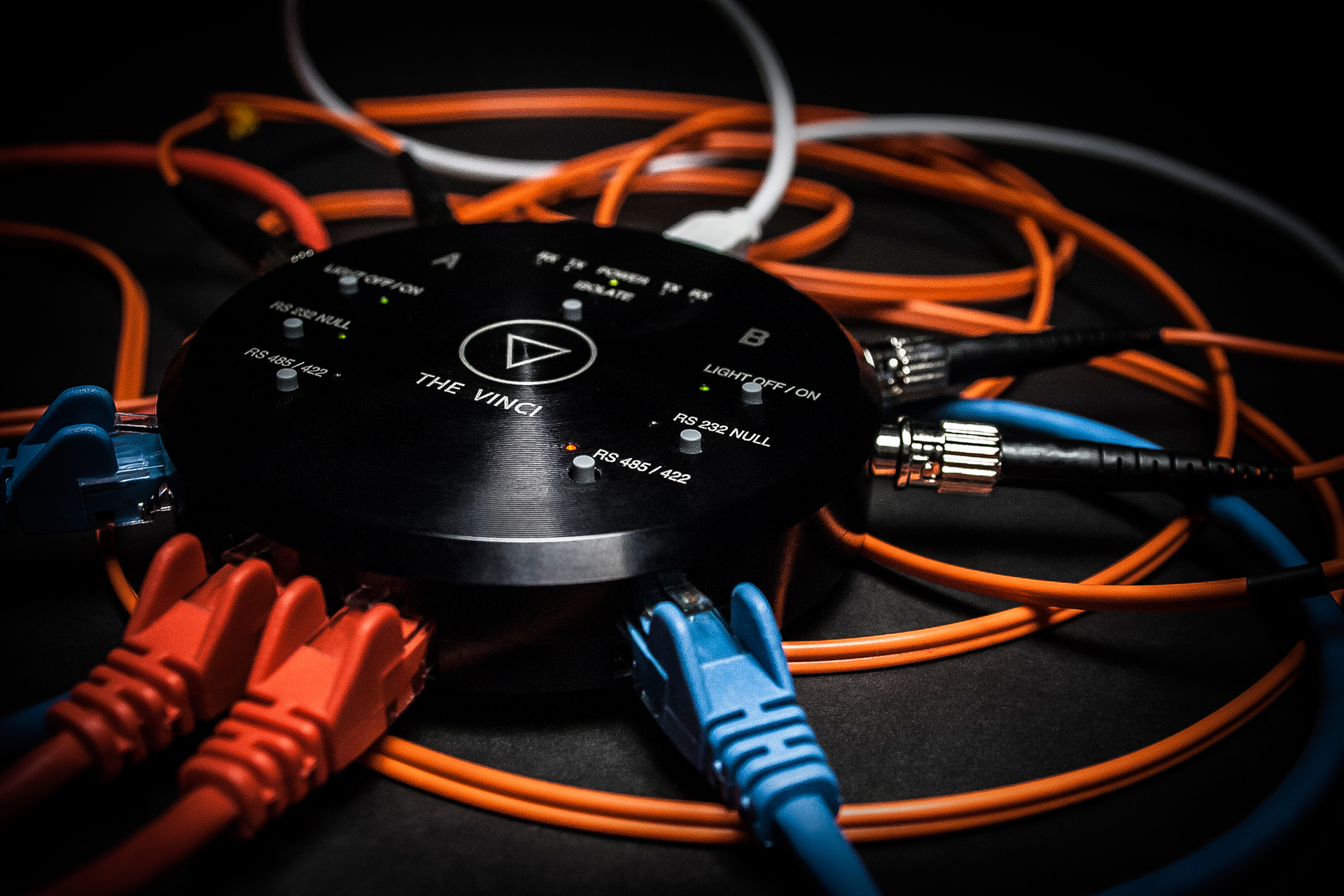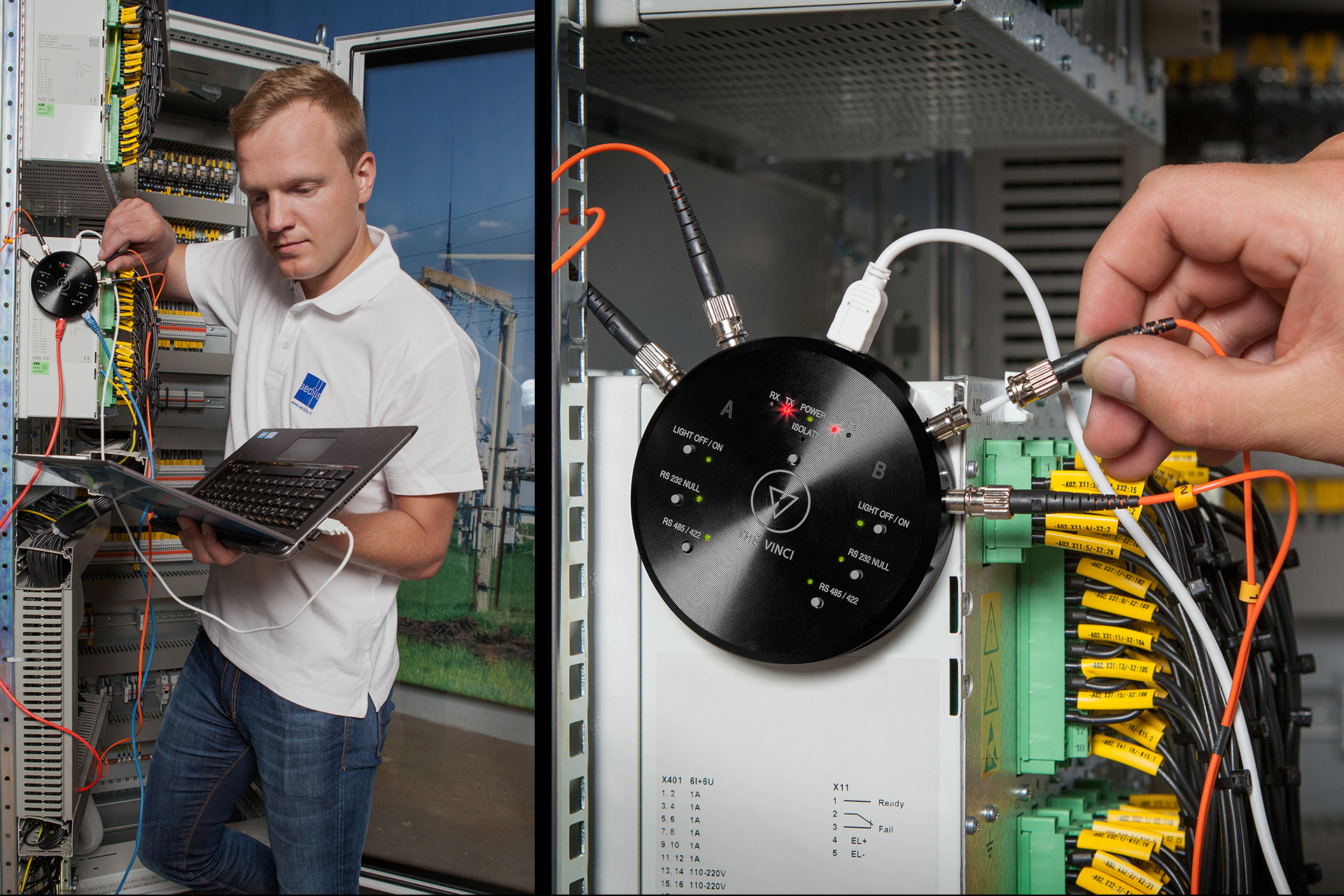 Fiber optical lines designed for multimode serial communication lines to perfectly fit into site communication needs based on serial communication lines. That allows to interconnect between IED and RTU, Telco equipment be used as interface converter from Fiber to serial as well as fiber optics to PC. Additionally to that The Vinci Expert with The Vinci Software is capable to measure fiber optical line budget.
Buttons located on The Vinci Expert enables to use simple functions like Light On mode for fiber optical line, Null modem cabling for RS232 line, and RS422 to RS485 switching. And unique isolate button allows to isolate communication between sides A and B that traffic would be send only to USB serial ports.
The Vinci expert has embedded magnets on bottom side to perfectly stick on metal cabinet wall or metal equipment.
Specifications
Device data
Description
Article number
The Vinci Expert
Product description
The Vinci Expert combines hardware with The Vinci Software commercial license (PREMIUM).
The Vinci expert hardware is interface converter RS232, RS485, Fiber optics with advanced features described bellow in specifications.
System requirements
Windows OS minimal version 7 or higher.
Compatible with Windows 7, 8, 8.1, 10, 11.
Warranty
2 years
Functionality
– Two independant serial communication ports on PC.
– Mini USB connector fro communication with PC and supply power to The Vinci expert.
– 2 x RS232 interfaces with freely pin assignment with software.
– 2 x RS485/RS422 interfaces with terminating resistors, pin and mode switch with software.
– 2x multimode Fiber optical connectors with metal ST connectors.
– Mini USB B connector and cable.
– 7 buttons to easy change configuration.
– Execute multiple commands from one window.
– Software included.
– Rugged aluminium alloy.
Supported protocols
IEC 60870-5
Modbus ASCII/ RTU
DNP3.0 serial
ABB RP 570/571
ABB SPA-Bus
Alstom Courier
Spacom
DLMS/Cosem over serial (rs232/rs422/rs485)
Danfoss Comlynx
Comli
Nortroll
IEC 60256-21
Vestas serial
Telegyr
Terminal (VT100 and other)
RAW data (any serial communication interface data)
NOTE: Not all protocols are supported by The Vinci Software please check product information.
RS232
2 independent RS232 (Standard EIA/TIA-232-E) interfaces
Pinout
RJ45 (8pins)
Configuration
All RS232 signals are freely attachable (including GND) to any RJ45 pin.
Cable length
up to 5 meters (imperial 16 ft)
Default mode
DTE (data telecommunication equipment pinout)
RS485
2 independent RS422/RS485 (Standard ANSI/TIA/EIA-422 and ANSI/TIA/EIA-485) interfaces
Pinout
RJ45 (8pins) with hardwired pinout
Configuration
Switchable mode RS485/RS422 (button and software),
Pin swap (AB / BA and YZ / ZY with software.
Terminating resistors switchable with software.
Cable length
up to 1000 meters (imperial 3280 ft) speed depending on twisted pair parameters
Fiber optic
2 independent multimode fiber optical interfaces
Pinout
ST/ST compatible with 62.5/125 μm and 50/125 μm multi-mode fiber
Configuration
Switchable mode Light On/Off (button and software),
Fiber optical budget measurement
Cable length
up to 2000 meters (imperial 6560 ft)
Indication
Independent LED RX and TX on each serial communication interface
Power LED
Mode indication with LED x7
Power usage
5V DC via USB
Max. Current 460mA
Min. Current 260mA
Connector type: Mini USB type B
Package contains
1 x The Vinci Expert
2 x 1 meter long cable RJ-45 to RJ-45
2 x Adapters RJ-45 to DB-9 F
2 x DB-9M to DB-9M
2 x DB-9M to DB-25F
2 x DB-25M to DB-25M
1 x Duplex Multimode Fiber Optical cable with ST to ST connectors
1 x Mini USB to USB Type A Cable
1 x Mini power adapter (AC plug) to USB
2 x 0.5 meter long RJ-45 cable with loose crimped ends for RS485
1 x Flash drive with user manual and software
1 x Traveler case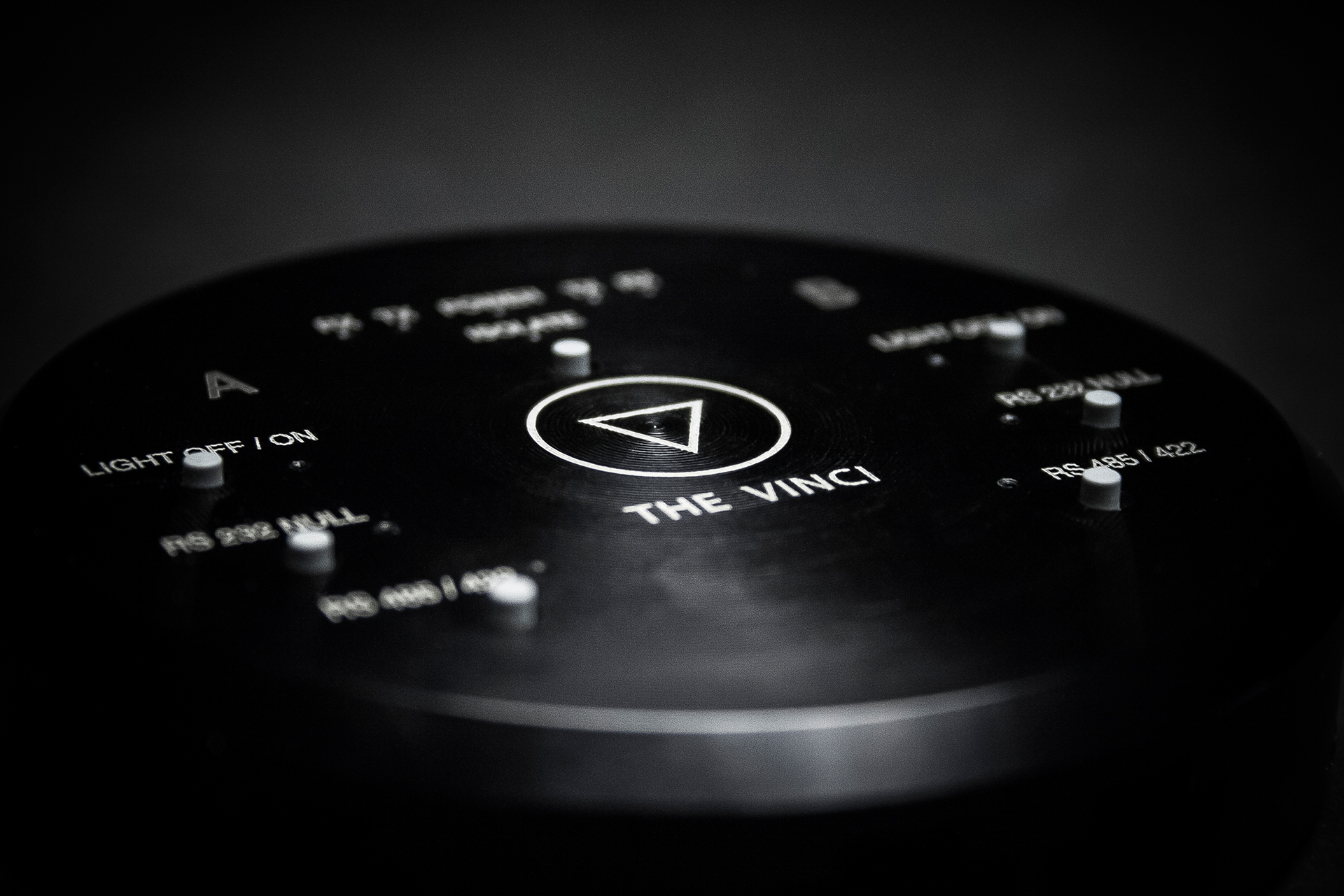 Order
VINCI Expert B – The Vinci Expert iron black edition
VINCI Expert W – The Vinci Expert silver white edition (on request)